Clergy & Professional Staff
Rabbi Lee Friedlander   rabbilee@rsns.org
Rabbi Lee takes an active role in all aspects of the congregation. Equally at home in his weekly sixth grade Synagogue School class as he is in one of his bi-weekly seminars and Shabbat on the bima, he is a rabbi to all generations.
Rabbi Lee is a graduate of Temple University with a Master's Degree in Religion, and a graduate of the Reconstructionist Rabbinical College. He has been at RSNS since 1981. A past president of the Reconstructionist Rabbinical Association and of the Jewish Reconstructionist Foundation, he is also readings editor of Kol HaNeshama, the prayerbook series of the Reconstructionist movement and is the immediate past chair of his rabbinical association's Ethics Committee. Rabbi Lee has two daughters, Sara and Ruthie.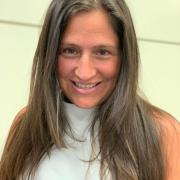 Rabbi Jodie Siff  rabbijodie@rsns.org
Rabbi Jodie literally grew up in this congregation. Her family joined RSNS soon after its founding. Today she directs the synagogue school and is active in every part of the community. Rabbi Jodie leads Rosh Hodesh groups for women and for girls post bat mitzvah. Her work with the synagogue's children begins in the Gan Shalom nursery school and includes many intergenerational programs.
Rabbi Jodie is a mentor in the Leadership Institute of Congregational Educators and is an active member of the Port Washington/Manhasset Clergy Association. An alumna of Lehigh University, Jodie began her Hebrew studies at the Jewish Theological Seminary and graduated from the Reconstructionist Rabbinical College in 2001. Jodie and her husband Peter are the proud parents of four children.
Cantor Eric Schulmiller   cantoreric@rsns.org
An alumni of the Jewish Greening Fellowship, Cantor Eric is passionate about social justice, creating meaning through music, and helping learners of all ages connect to their Judaism through imagination, a sense of commitment to community, and the desire to make new friends and lifelong memories! Eric has served as cantor at RSNS since 1999, and also runs the synagogue teen program, including the youth group, Kesher Hadash, and the program for teenage boys, "Bro's Hodesh."
Cantor Eric is a regular contributor to the Jewish Daily Forward, where he writes about the intersection of Jews and pop culture, on topics ranging from Star Wars to sports to music. Eric earned his bachelor of music degree in Jazz Piano from the University of Miami in 1994, and has played with his own jazz group at NYC jazz clubs such as the renowned Knitting Factory. A member of the American Conference of Cantors, Eric was ordained in 1999 with a masters degree in Sacred Music from the Debbie Friedman School of Sacred Music at Hebrew Union College, Jewish Institute of Religion.  His commissioned musical settings of liturgical music have been performed at synagogues throughout New York including Temple Emanuel and Temple Rodef Sholom of Manhattan. Eric and his wife Sarah live in Port Washington, with their two lovely children.
Read more from Cantor Eric in the Cantor's Corner.
Liza Wilson, Executive Directorexecutivedirector@rsns.org
Liza Wilson has long term ties to the community. Through the years, she has spent countless
hours at Gan Shalom and has gotten to know the RSNS community and its customs.
Liza is a graduate of Queens College with a B.A. in Psychology, and an A.S. in Paralegal
Studies from Broward College.
Through her personal experiences and job achievements, she has gained valuable lessons in
administration, and aided in solving legal issues for multiple clients which will help her fulfill her
duties as your new Executive Director.
She has volunteered for organizations such as AILA, United Way of Broward County, Mission
United, and Habitat for Humanity.
Liza is a mother to three children. She lives in Brooklyn with her husband and her family. She is
eager to work and serve the RSNS community.
Miriam Miller, Gan Shalom Nursery School Interim Director    GanShalom@rsns.org
We are happy to announce that the RSNS Executive Committee has appointed Miriam Miller as Interim Director of Gan Shalom, effective September 5, 2020. Miriam has been with Gan Shalom since 2003 and is beloved by parents, students, fellow teachers and the RSNS community. Her unflagging dedication to Gan Shalom over many years has been as inspiring, as it has been instrumental in keeping our Nursery School outstanding. Miriam's strong knowledge of Early Childhood Development will continue to be a valuable resource to Gan Shalom parents and teachers. Miriam has a Masters in Science from Touro College in Special Education for Birth-2nd grade. She was awarded the Grinspoon Steinhardt Award for Excellence in Jewish Education and has been a facilitator for the last six years in Gan Shalom's Family Engagement program and plays a part in our PJ library program.
Lisa Erkus, Gan Shalom Nursery School Interim Administrative Director    GanShalom@rsns.org
We are also happy to announce that the RSNS Executive Committee has appointed a newer member of the Gan Shalom family, Lisa Erkus, as Interim Administrative Director, effective September 5, 2020. Lisa has assisted with logistical work of managing Gan Shalom during her time with us and has become integral to our administrative efforts. Lisa has a Bachelor's in Communications with a minor in Politics and has been CDA certified for teaching since 2004. She is familiar with all OCFS regulations as well as requirements for Covid-19. Lisa was a head teacher in the 2s last year and has developed written curricula for 2s, 3s and 4s.
Ira Eisenstein z"l  Rabbi Emeritus
Rabbi Ira Eisenstein (November 26, 1906 - June 28, 2001) founded Reconstructionist Judaism, along with Rabbi Mordecai Kaplan, his teacher and, later, father-in-law through his marriage to Judith Kaplan, over a period of time spanning from the late 1920s to the 1940s. Reconstructionist Judaism formally became a distinct denomination within Judaism with the foundation of the Reconstructionist Rabbinical College in 1968, where he was the founding president.
A native of Manhattan, New York, Rabbi Eisenstein held a bachelor's degree and a doctoral degree from Columbia University. In 1931, he was ordained by the Jewish Theological Seminary, where he first met and married Judith Kaplan Eisenstein, daughter of founder Mordecai Kaplan.
After his ordination, Rabbi Eisenstein became associate rabbi and then rabbi of the Society for the Advancement of Judaism, the first Reconstructionist congregation, which Kaplan founded in 1922. He also served as religious leader of the Anshe Emet Synagoguein Chicago, as well as the Reconstructionist Synagogue of the North Shore.
A former president of the Conservative Rabbinical Assembly of America, Rabbi Eisenstein served as president of the Jewish Reconstructionist Foundation from 1959 to 1970. From 1935 to 1981, he was editor of The Reconstructionist, the movement's magazine."