Clergy and Professional Staff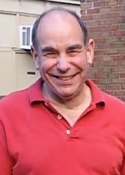 Rabbi Lee Friedlander   rabbilee@rsns.org
Rabbi Lee takes an active role in all aspects of the congregation. Equally at home in his weekly sixth grade Synagogue School class as he is in one of his bi-weekly seminars and Shabbat on the bima, he is a rabbi to all generations.
Rabbi Lee is a graduate of Temple University with a Master's Degree in Religion, and a graduate of the Reconstructionist Rabbinical College. He has been at RSNS since 1981. A past president of the Reconstructionist Rabbinical Association and of the Jewish Reconstructionist Foundation, he is also readings editor of Kol HaNeshama, the prayerbook series of the Reconstructionist movement and is the immediate past chair of his rabbinical association's Ethics Committee. Rabbi Lee has two daughters, Sara and Ruthie.
Rabbi Jodie Siff  rabbijodie@rsns.org
Rabbi Jodie literally grew up in this congregation. Her family joined RSNS soon after its founding. Today she directs the synagogue school and is active in every part of the community. Rabbi Jodie leads Rosh Hodesh groups for women and for girls post bat mitzvah. Her work with the synagogue's children begins in the Gan Shalom nursery school and includes many intergenerational programs.
Rabbi Jodie is a mentor in the Leadership Institute of Congregational Educators and is an active member of the Port Washington/Manhasset Clergy Association. An alumna of Lehigh University, Jodie began her Hebrew studies at the Jewish Theological Seminary and graduated from the Reconstructionist Rabbinical College in 2001. Jodie and her husband Peter are the proud parents of four children.
Cantor Eric Schulmiller   cantoreric@rsns.org
An alumni of the Jewish Greening Fellowship, Cantor Eric is passionate about social justice, creating meaning through music, and helping learners of all ages connect to their Judaism through imagination, a sense of commitment to community, and the desire to make new friends and lifelong memories! Eric has served as cantor at RSNS since 1999, and also runs the synagogue teen program, including the youth group, Kesher Hadash, and the program for teenage boys, "Bro's Hodesh."
Cantor Eric is a regular contributor to the Jewish Daily Forward, where he writes about the intersection of Jews and pop culture, on topics ranging from Star Wars to sports to music. Eric earned his bachelor of music degree in Jazz Piano from the University of Miami in 1994, and has played with his own jazz group at NYC jazz clubs such as the renowned Knitting Factory. A member of the American Conference of Cantors, Eric was ordained in 1999 with a masters degree in Sacred Music from the Debbie Friedman School of Sacred Music at Hebrew Union College, Jewish Institute of Religion.  His commissioned musical settings of liturgical music have been performed at synagogues throughout New York including Temple Emanuel and Temple Rodef Sholom of Manhattan. Eric and his wife Sarah live in Port Washington, with their two lovely children.
Read more from Cantor Eric in the Cantor's Corner.
  Sylvia Jacobs, Executive Director   executivedirector@rsns.org
Sylvia Jacobs graduated from Adelphi University, both undergraduate and graduate programs.   She has been involved with synagogue life most of her life. She began working as teacher's aide while still in high school.  There were no women rabbis when she was in college so she considered getting her masters in Jewish Education.  Sylvia continued to work in Jewish Education throughout high school, college and beyond.  She also devoted many years to supporting the work of her former husband, who is a Reform rabbi.  Sylvia came to RSNS when we moved into our present building.  She went from Hebrew School teacher, to School Administrator and then Executive Director.   She is committed to the continuity of liberal Jewish life.
Laura Reich, Nursery School Director    GanShalom@rsns.org
Laura Reich has been the director of Gan Shalom Nursery school since 1995. She is a lifelong early childhood professional and earned a B.S. and M.S. in Early Childhood Education from Queens College. Prior to becoming the director of Gan Shalom, Laura was teaching 3 and 4 year olds and taught kindergarten in the New York City public schools. She has been actively involved in Jewish Early Childhood Education for more than 30 years. Laura has published articles on early childhood education for prestigious early childhood journals. She is a member of the National Association for the Education for Young Children (NAEYC) and serves on the board of The Jewish Early Childhood Association and Childcare Council of Nassau County's Golf Committee. She has worked closely with traditional and non-traditional families with young children to develop strong Jewish identities and a love of Judaism.
Ira Eisenstein z"l  Rabbi Emeritus
Rabbi Ira Eisenstein (November 26, 1906 - June 28, 2001) founded Reconstructionist Judaism, along with Rabbi Mordecai Kaplan, his teacher and, later, father-in-law through his marriage to Judith Kaplan, over a period of time spanning from the late 1920s to the 1940s. Reconstructionist Judaism formally became a distinct denomination within Judaism with the foundation of the Reconstructionist Rabbinical College in 1968, where he was the founding president.
A native of Manhattan, New York, Rabbi Eisenstein held a bachelor's degree and a doctoral degree from Columbia University. In 1931, he was ordained by the Jewish Theological Seminary, where he first met and married Judith Kaplan Eisenstein, daughter of founder Mordecai Kaplan.
After his ordination, Rabbi Eisenstein became associate rabbi and then rabbi of the Society for the Advancement of Judaism, the first Reconstructionist congregation, which Kaplan founded in 1922. He also served as religious leader of the Anshe Emet Synagoguein Chicago, as well as the Reconstructionist Synagogue of the North Shore.
A former president of the Conservative Rabbinical Assembly of America, Rabbi Eisenstein served as president of the Jewish Reconstructionist Foundation from 1959 to 1970. From 1935 to 1981, he was editor of The Reconstructionist, the movement's magazine."